Welcome to Inclusive Neighbourhoods!
Do you think it would be great if you and your neighbours were more connected to each other?
Would you like to be part of a movement that helps to spread kindness and compassion in your local community?
Then we need you!
Inclusive Neighbourhoods is a website to help South Australians reach out and support one another as neighbours, not only during COVID-19, but also into the future.
We are about celebrating diversity and helping one another build stronger, more enduring connections to the people around us.
This website will give you the tools and the confidence to encourage neighbourliness in your community. It will be updated regularly with stories about how neighbours and communities connect to help inspire others to take action.
Read our one pagers in the 'Getting Started' section on what to do if you are someone who wants to be helpful in your neighbourhood and steps you can take if you could benefit from being more connected to your community.
This website contains information about Adelaide-based in-person and online neighbourhood initiatives. We call these initiatives 'circles', because when we researched them we used a Circles of Support methodology. Circles of Support methodology is about inviting people who hold a freely given relationship into a vulnerable person's life and assisting people who are vulnerable to take up valued roles within friendships, groups, and neighbourhood associations.
Neighbourhood Circles Project Reports
The following two reports, Part 1: "A space at the heart of the community" and Part 2: "Inclusion is everyone's responsibility", provide a snapshot to some of the research we have conducted about different types of neighbourhood circles that exist around metropolitan Adelaide and what it might take establish more inclusive neighbourhoods for the future.
---
Neighbourhood Circles Summit
As part of the Neighbourhood Circles Project we hosted a one day forum that brought together a variety of neighbourhood champions, advocates and people with lived experience to talk about strategies to build inclusive neighbourhoods moving forward. Feel free to watch the recording all in full or pick segments to view at your leisure.
Some feedback from the Summit:
"The neighbourhood summit was outstanding….I loved the format and structure to the program with each speaker adding a unique and personal perspective"
"This has been fabulous…Really inspiring"
"This summit has been uplifting and empowering."
"A wonderful, informative, passionate summit"
"I really enjoyed the Neighbourhood summit, it certainly provided some great examples and provided a lot of motivation to get out there and 'do' something!"
"I can't wait to share the learnings and recording of this with many of the people I am connected to. I'm really inspired to take on these ideas in my own life too!!"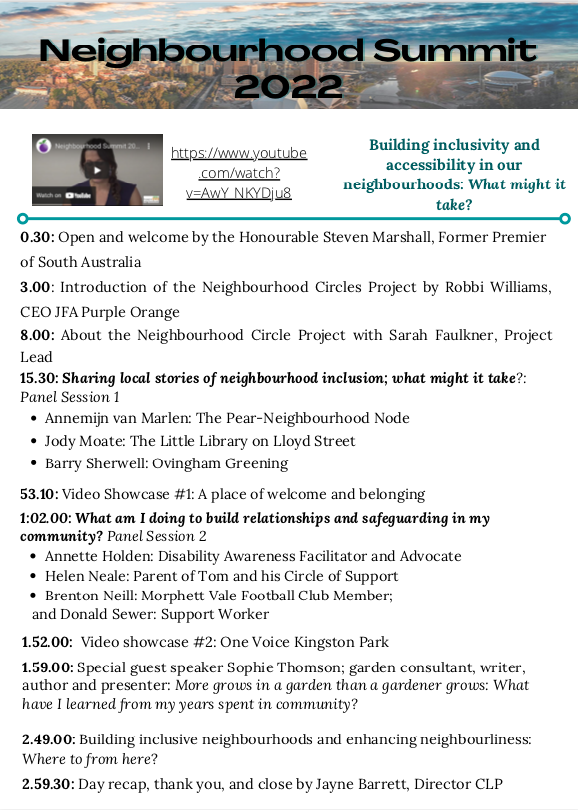 ---
Watch our short video about Inclusive Neighbourhoods and how this concept could help you.
Inclusive Neighbourhoods from JFA Purple Orange on Vimeo.
Got a question? Please contact us below: